You may have been wondering why I haven't updated for a few days. Alternately, you may not even have noticed. Well I was on a history trip to Berlin and they promised a trip to the cinema-Imax-massivemovieshop-filmmuseum and then broke their promise. Did I mention I was upset?
On a cheerier note, I inform you of a cool website I found and just rediscovered. It is
http://similarminds.com/movie.html
It's got loads of cool proper personality tests, but then there's the slightly less serious classic movie test.
My mind has changed, apparently. I took the 45 question version years ago, and then I took it again sometime last month. I've got to warn you now, neither of them are very flattering...
Last year:
This year: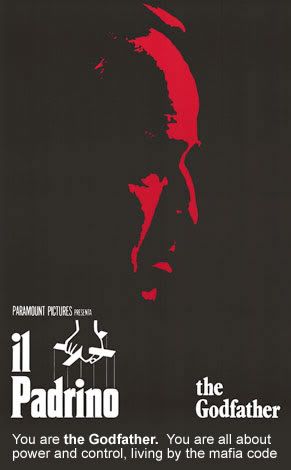 Fame, success, power and control. I'm curiously honoured, I suppose. At least I didn't get anything drippy...
By the by, on the aforementioned Berlin trip I saw a total of 60 DVDs I wanted, and that was only in the Gatwick shops. And two of them were box sets.